Which Poker Books to read?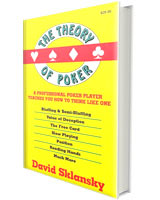 If you are looking to increase your poker knowledge and elevate your game to a new level, then you need to read some of the game's classic pieces of strategy work. Anyone who aspires to be like Phil Ivey or Doyle Brunson needs an in-depth knowledge of poker's fundamental concepts.
To furnish yourself with this information, you need to read David Sklansky's The Theory of Poker. This must-read manual is a comprehensive outline of the basic skills you need to master in order to become a strong poker player. By far the most pertinent section of the book is his outline of "The Fundamental Theorem of Poker". This concept underpins every decision you make at the table.
It reads as follows: "Every time you play a hand differently from the way you would have played it if you could see all your opponents' cards, they gain; and every time you play your hand the same way you would have played it if you could see all their cards, they lose."
Briefly, this means that if you want to make a profit you must always play your hand the same way you would if your opponent exposed their cards. Any time you deviate from this, you will lose money.
Another recommend book for any poker player wanting to improve is Dan Harrington's tournament series: Harrington on Hold'em. This collection of three books examines the core skills you need to succeed in poker tournaments, such as the concept of M (how many blinds + antes your stack equates to) and inflection points (when to make certain moves based on your M).
Dan's books signalled a new era in tournament theory and significantly raised the standard of poker tournaments across the world. Thus, in order to keep up with the pack you must make sure you read his works.
There are many other poker books available; however, these two contain the most comprehensive accounts of the fundamental skills you need to become a winner at the felt.



<<Back to Getting Started